Lose weight with Contour Light®
Weight loss can be difficult, especially when you struggle with stubborn areas. It takes a real commitment to the process to lose weight quickly and safely, but even then, there can still be problem areas that simply refuse to lose the inches you're hoping for. With Contour Light therapy, our weight loss clinic at Body Integrations Chiropractic can help you achieve the look you've been hoping for.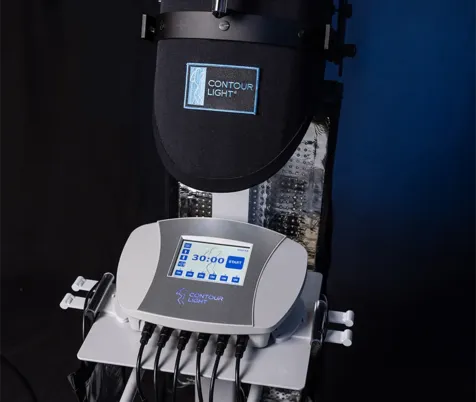 Contour Light® body contouring in Houston
Our Contour Light® Program is a doctor-supervised weight loss procedure that helps you to lose inches quickly. This FDA-cleared program targets those hard-to-lose inches around your waistline, hips, thighs, arms, and even your chin. These areas tend to be resistant to diet and exercise for some people, and further assistance is needed. Some patients have lost between 5 and 20 inches in one month, all thanks to Contour Light therapy paired with a healthy diet and exercise.
Additional benefits of the Contour Light® technology includes:
Skin tightening
Diminishes wrinkles and fine lines
Stimulates elastin and collagen
Stimulates blood circulation
Helps reduce pain
How does it work?
The Contour Light® treatment uses LED red light therapy to shrink fat cells. This process is accomplished by the soft, warm lights causing the fat cells to release their contents of triglycerides, fatty acids, glycerol, and water. The contents are then flushed out through the body's system. The shrinking fat cells result in an immediately slimmer appearance. The lights that line the pads provide a warm sensation, similar to a heating pad. There is no recovery time; after your 20-minute session, you may return to your daily activities.
With our body contouring plan, you'll not only be able to lose weight. The Contour Light therapy also aids skin tightening, diminishes fine lines and wrinkles, stimulates collagen and elastin growth, stimulates blood circulation, and helps reduce pain.
Body contouring in Houston has never been so easy or painless. With the expertise of Dr. Nicol at the helm, your experience when you come to our clinic for body sculpting in Houston will be one to remember. Book with us today for a consultation and see the results for yourself!
BOOK NOW